Here you will learn about prices in Belarus. I tried to collect the most recent and complete information. I hope that you will find new and interesting information here.
See also: Salary in Belarus.
All prices are in Belarussian rubles. You can find out current exchange rate of the Belarussian ruble to other currencies on the Internet.
I would be grateful if you share the link to this page with your friends.
Prices in Belarussian cities
Minsk (the country's capital) is the most expensive city in Belarus. First of all, this applies to housing prices and certain food products. However, the average bill in cafes and restaurants in Minsk is also slightly higher than in other Belarussian cities.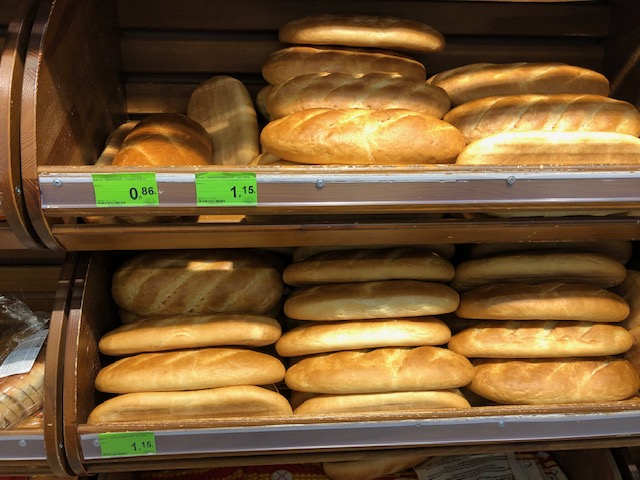 Cost of one trip on public transport in Minsk:
metro — 0.70 rubles;
trolleybus, tram, bus — 0.65 rubles;
express bus — 0.80 rubles.
Tickets are usually sold at kiosks near a public transport stop or from the driver. When buying from the driver, the fare increases by 5 kopecks.
Want to pay cheaper? Pay attention to transport maps.
In other cities of the country, public transport is cheaper.
Food prices
Food prices in the country are approximately the same. In large cities, it is easier to find the right products, because there are more stores.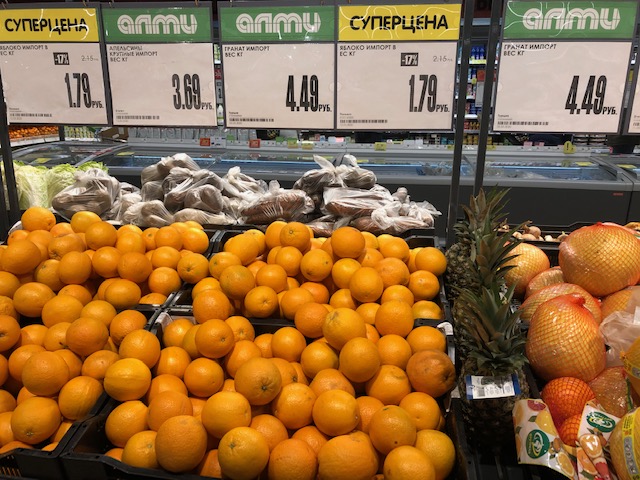 Average food prices in Belarus are shown below in rubles.
| | |
| --- | --- |
| Brown bread (500 g) | 1.10 |
| Cheese (1 kg) | 1.50 |
| Rice (1 kg) | 1.80 |
| Potatoes (1 kg) | 0.40 |
| Onion (1 kg) | 1 |
| Tomatoes (1 kg) | 3.50 |
| Apples (1 kg) | 1.90 |
| Oranges (1 kg) | 3 |
| Bananas (1 kg) | 2.50 |
| Chicken (1 kg) | 5.20 |
| Chicken eggs (10 pieces) | 2.10 |
| Pork (1 kg) | 10 |
| Milk (1 liter) | 1.30 |
| Butter (180 g) | 2.50 |
Clothes prices
There are many clothing industries in this country. Therefore, it is not surprising that clothing in Belarus is cheap.
Five pairs of men's socks cost 1.50 rubles. Women's dress can be purchased for 16 rubles.
In short, the prices of clothing and bed linen in Belarus are much lower than in any EU country.
Housing and rent
Long-term rent of a single-room apartment in Minsk costs 650 Belarusian rubles per month. In other cities, it is much cheaper.
For long-term rentals, you must also pay for housing and utilities services (electricity, water, etc.). The price of housing and utilities is about 50 rubles a month.
Daily rent of a single-room apartment in Minsk costs 15 Belarusian rubles or more.
Cottage rent on the Braslav Lakes will cost from 100 Belarusian rubles per day. To be honest, the prices for renting cottages in this country are very high. Belarus is a poor country where a salary of 500 euros is considered to be very high for many residents of the capital (such salaries are rare). In small towns, salaries are usually very low.
Entertainment
A movie ticket costs 4 Belarusian rubles. A visit to the museum costs about 10 Belarusian rubles. There are many museums in this country.
Lunch in a cheap cafe costs about 15 Belarusian rubles. Lunch at the restaurant costs about 37 Belarusian rubles.
Paid fishing is also a common practice in Belarus. It is relatively inexpensive, the price depends on the location.
Souvenirs from Belarus
In Belarus, there are many good and cheap products. You can bring many souvenirs from there, both for yourself and as a gift.
1. Clothing and bed linen made of natural linen. It is produced at the Orsha textile factory. For example, a set of bed linen made of 100 % natural linen costs 150 Belarusian rubles.
2. Chocolate, candies and various sweets. Prices are low, but the quality and taste are very good. You can find them in supermarkets, markets and specialty stores.
3. Knitwear. Characteristics: high quality, low price, great variety.
4. Woodenware. Prices from 1.5 to 140 rubles.
5. Souvenirs of yellow straw. Prices from 6 to 15 rubles.
6. Belarusian cosmetics. I especially recommend the products of Bielica company, they are good and cheap. Prices from 2.30 rubles.
7. Products of genuine leather. High quality is combined with low prices.