Russian Police Ranks and Insignia
Russian police ranks are divided into four groups:
The first group is senior NCOs: sergeants and warrant officers.
The second group is junior officers: lieutenants and captains.
The third group is senior officers: majors, lieutenant colonels, and colonels.
The fourth group is general officers: major generals, lieutenant generals, colonel generals, and generals of police.
The police ranks are conferred for life. When a police officer retires, the words «in retirement» are added to their rank (for example, a captain in retirement, a major in retirement, a colonel in retirement, and so on).
Russian police ranks are conferred sequentially. A police officer should serve a certain fixed term. In Russia, all ranks are divided into first and regular.
Getting a regular title is not so easy. When it is conferred, special attention is paid to the officer's education. But sometimes, a police officer can be promoted ahead of time, for example, for special service to the country. However, if the officer has served in the previous rank for less than half of the required period, this promotion is postponed.
All Russian police ranks, from cadets to generals of police have their insignia. But how can one determine a police officer's rank and position? Here is a table: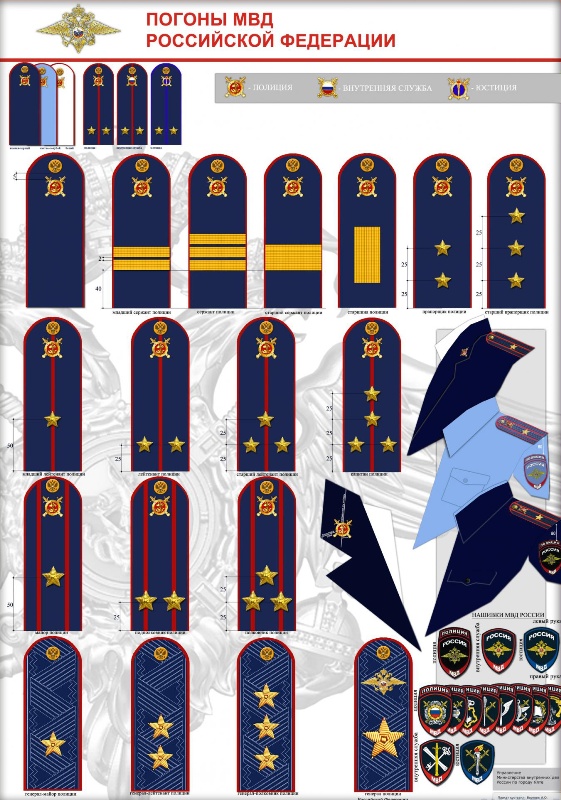 The table below has become a little obsolete and undergone some insignificant changes: there is no «police» emblem near the button, and the first sergeant's strap has a wide stripe, which is longer than that on the new strap (one can see it on the above photo). The shoulder strap of the general of police has changed its color. Other things are the same.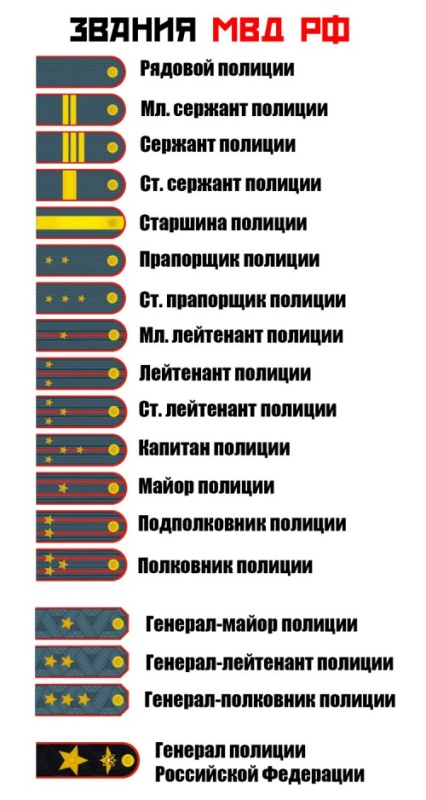 Private
The shoulder straps have distinctive signs: a button and a «police» emblem next to it. Police cadets also have a letter K.
Senior NCOs: Sergeants and Warrant Officers
Junior sergeants, sergeants, and senior sergeants have stripes across their shoulder straps. A junior sergeant has two stripes, a sergeant has three stripes, a senior sergeant has one wide stripe across their strap, while a first sergeant has the same wide stripe but along their strap.
Warrant Officers
There are small vertically‐arranged stars without any stripes on warrant officers' shoulder straps. Warrant officers have two stars, while chief warrant officers have three stars.
Junior Officers: Lieutenants and Captains
The straps have a vertical red stripe. The stars are small. A junior lieutenant has one star on a red stripe, a lieutenant has two stars with a stripe between them, a senior lieutenant has three stars, two across the stripe and one on the stripe, a captain has four stars, two across the stripe and two on the stripe.
Senior Officers: Majors, Lieutenant Colonels, and Colonels
There are two red vertical stripes and big stars along their shoulder straps. One star in the middle inside the stripes indicates a major. Two stars located on the stripes means a lieutenant colonel. Three stars, two on the stripes and one between them, are a sign of a colonel.
General Officers: Generals and Generals of Police
The stars are big without any stripes. They are arranged vertically. A major general has one star, a lieutenant general has two stars, and a colonel general has three stars. One bigger star with a large Russian coat of arms belongs to a general of police.
Russian police ranks are conferred after a certain period of service.
Privates and junior sergeants need to serve for 1 year, sergeants – for 2 years, and senior sergeants – for 3 years. Warrant officers should serve for 5 years to become junior lieutenant. A junior lieutenant's period of service is 1 year, a lieutenant's – 2 years, a senior lieutenant's and a captain's – 3 years, a major's – 4 years. Lieutenant colonels should serve for 5 years.
Colonels and generals are promoted only for special merit and service to their country. This rule does not apply to the highest rank, general of police.